Mezzo® Energy-Efficient Vinyl Windows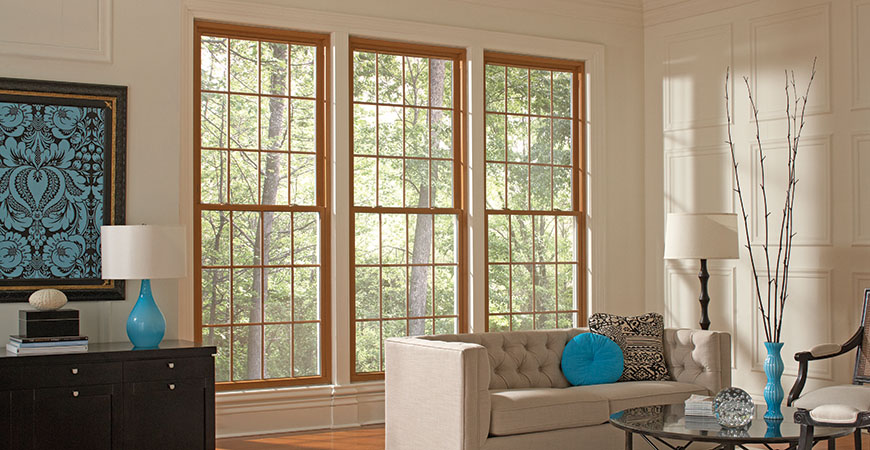 Aesthetics and Technology . . . Redefined
Mezzo® Windows from Alside feature a thermally optimized narrowline frame and sash with a dual-pane insulated glass solution designed to meet stringent ENERGY STAR® requirements. Our innovative ClimaTech PriME glass package meets ENERGY STAR Most Efficient criteria and may help homeowners qualify for tax credits.
The elegant narrowline construction ensures maximum daylight visibility while advanced technological reinforcements deliver dependable strength while minimizing energy transfer.
This product is available in our Eastern distribution Region.

Features and Benefits
Mezzo Full-Frame Replacement System delivers superior performance with consistent, aesthetically pleasing exterior trim.
The EdgeForce low-profile frame and sash creates an expanded glass area while internal chambers increase structural integrity, rigidity and energy efficiency.
The Ocular screen bulb seal eliminates light penetration between the screen and frame and aids in easy screen installation and removal.
CoreFX composite reinforcement helps reduce the transfer of energy while strengthening meeting rails and allowing for secure mounting of hardware.
Defense-Tek end-of-throw cam shift locking action delivers increased strength and protection.
Forecaster quickly directs water runoff, keeping the exterior of the window clean and attractive.
The HP3 telescoping sill dam delivers protection from air and water infiltration, increases structural stability and enhances beauty.
Gatekeeper interlocking sash-to-sill technology delivers a unified wall of strength.
Insulating Glass Packages
Reducing energy loss is often the number one reason for purchasing replacement windows. Windows are roughly 80% glass, so it's important to choose the ideal glass system for your home and climate. Upgrading to a high-performance Low-E (low-emissivity) insulated glass package may help further increase year-round energy savings.
Mezzo offers four families of high-performance insulated glass packages, including our innovative ClimaTech PriME insulated glass package, which meets ENERGY STAR Most Efficient in all climate zones:
| | |
| --- | --- |
| ClimaTech PriME – Combines three panes of glass, three surfaces of Low-E (low-emissivity) technology, two spaces of argon gas fill and two warm-edge spacer systems. | |
ClimaTech – combines insulating Low-E glass, argon gas and the Intercept Warm-Edge Spacer System.
ClimaTech ThermD – features insulating Low-E glass, argon gas and a Stainless Steel Intercept Warm-Edge Spacer System.
ClimaTech Plus – combines our Foam Spacer System with a glass unit of UV-filtering Low-E (low-emissivity) glass and argon gas.
Consult your window professional for the energy-efficient glass packages available for your home and climate zone.
Learn More About Our Insulated Glass Packages
Cavity Foam Insulation
Mezzo Windows with enhanced cavity foam insulation are different than other windows. The silver-gray foam insulation provides greater thermal protection to keep your home warm in the winter and cool in the summer with less energy spending.
The foam incorporates high-purity graphite granules into the expanded polystyrene (EPS) raw material.
Each polystyrene granule contains graphite, giving it a silver-gray color and increasing its insulating performance above conventional EPS foam insulation.
The carbonized foam material reflects radiant heat, lowers the thermal conductivity and improves the insulation capacity.
Select chambers of the window are thermally enhanced with the precision-contoured foam liners to increase energy efficiency and achieve a lower U-factor.
U-Factor represents the window's resistance to heat flow and energy loss–the lower the U-Factor, the greater the energy savings.
Available in single-hung, double-hung, sliding and picture windows.
Learn more about Mezzo Windows with Cavity Foam Insulation
High Performance Sliding Window
Precision-engineered to meet the challenging demands of intense wind and rain, Mezzo 3002 HP Sliding Windows are an excellent choice for coastal regions or areas with severe weather. The high-performance construction combines Mezzo's clean-lined aesthetics with heavy-duty structural upgrades to provide superior strength and durability – as well as peace of mind that your home is protected with a powerful shield.
Mezzo 3002 HP Sliding Windows meet or exceed Performance Grade (PG) 50 requirements for resistance to air pressure, water penetration and structural load – creating a highly effective barrier in areas that experience severe rainstorms and harsh coastal climate conditions. The higher the PG rating, the better the window will perform.
An extruded aluminum roller track, instead of a standard vinyl track insert, delivers higher water resistance
Two new steel reinforcements in the lock and keeper stiles and reinforced rails increase structural integrity to limit the deflection under load.
A metal block has been added to the head, and metal slide brackets have been added to the top and bottom of the sashes. The metal brackets on the sashes engage the metal block in the head and the aluminum roller track in the sill – resulting in a higher windload rating. Sashes do not lift out for easy cleaning.
A recessed lock will be standard.
Two panes of heavy-duty 5 mm (13/64″) glass in the insulated glass unit increases durability and energy efficiency, with an overall IGU thickness of 3/4″.
Available in the Box/Replacement frame only; nail fin frame options and vent latches are not available on the 3002 HP.
Learn more about the 3002 High Performance Sliding Window
Gallery
Exterior Colors
Interior Colors
*Extruded solid color.
¥ White Woodgrain is available with a beige and classic base only.
We recommend you make final color selections using actual product samples. All colors may not be available in all markets.
Grid Patterns
Contoured colonial grids are available in 3/4″ and 1″ profiles with complementary colors and matching woodgrains.
Grid Profiles
Simulated Divided Lite
V-Grooved Glass
The Mezzo Full-Frame Replacement System delivers superior performance, a pleasing aesthetic and innovative, snap-fit exterior trim with our secure SwiftLock® Technology.
Providing the best overall value, the system helps prevent water intrusion while delivering durability and energy efficiency. And now with Trimworks®, consistent beauty is ensured across all the windows of your home in a variety of aesthetic options.
Three key parts comprise the Mezzo Full-Frame Replacement System:
Mezzo Replacement Vinyl Windows: high-performing, thin-line frame for maximum viewable glass and energy efficiency
An ideal frame type: a nailing flange integral to the window frame provides proper flashing and water management
Trimworks Decorative Window Accents: a consistent trim look for all windows replaced on the home
Benefits
Trimworks Decorative Window Accents are fabricated with each window for an exact color match and fit, no matter the size or configuration.
Trimworks ensures a uniform, clean-finished aesthetic from window to window.
Offered in a variety of brickmould or casing looks, choose among three solid extruded vinyl colors and 10 exterior painted colors.
SwiftLock Technology provides a secure, perfect fit that withstands wind and temperature extremes.
A properly flashed integral nail fin helps prevent water intrusion.
By removing the old window frame entirely, your new window will be larger and provide more viewable glass than a conventional install.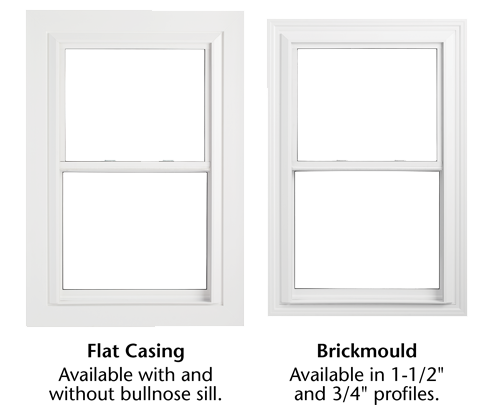 Exterior Color Options
Beauty and performance come together in Mezzo's array of colors, which feature polyurethane coating technology with heat-reflective pigments for  a strong and fade-resistant finish.